Issue:
I selected a face of my part, but when I convert it to an implicit, it doesn't create an Implicit Body. Why won't it convert to an Implicit?
Applies to:
CAD Bodies and faces

Mesh Bodies and faces

nTop 2.29 +
Cause:
We've updated the program recently, so when you select just the surface of a part and right-click, the option is now: "Convert CAD Face to Implicit Body". The jagged edges you see when you convert your part is a thin Implicit body. Implicits don't show up very well without a thickness to them, which is why it looks like an error.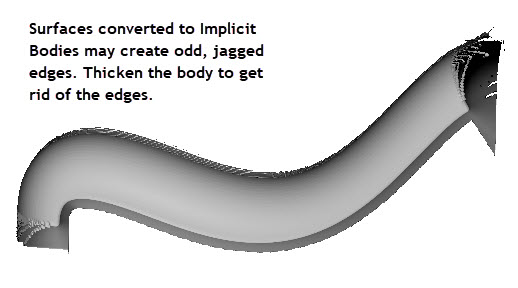 Solution:
Instead of just selecting the face, you need to select the entire body you want to convert.
To create an Implicit body from an imported part:
Double click on your body (this selects the entire body)
Right-click and choose "Convert CAD

Body

to Implicit Body"
More on this topic: