You may already call us nTop; so now we're making it official. nTop 4.0 is here! This new major release brings an updated software icon, color theme and home screen. Apart from these cosmetic changes, you will see adjustments to the naming of our products and services. Additionally, this release refreshes UI to provide you with a more intuitive and optimized user experience and improvements to wireframe rendering. Scroll down to read about new features, block updates, usage improvements and bug fixes. As with every release, nTop's dedicated support team is ready to answer your questions. Please visit support.ntop.com to gain access to helpful tutorials and support articles.
nTopology is more than just Topology optimization! We've renamed our brand and application to reflect the endless possibilities that nTop 4 brings to the table. With this change, you'll find:
New Application Name
New logo, with a new wordmark and symbol
New Desktop Icon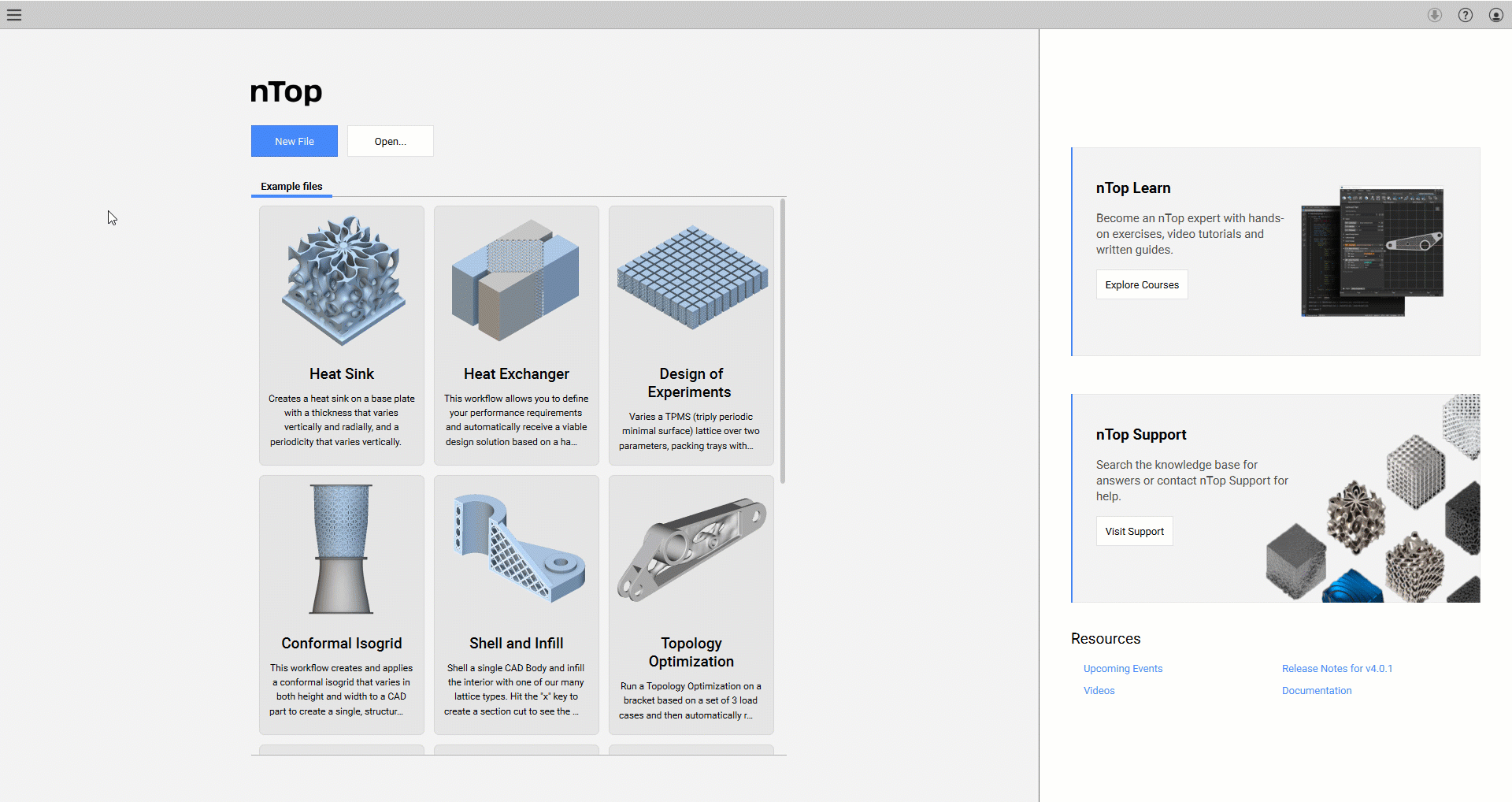 We've changed the layout of our notebook, ribbon, colors, and top bar to provide you with a more intuitive and optimized nTop user experience!
Ribbon/Notebook Changes

We decreased the ribbon's width to maximize the notebook's height. The increased width gives you more space to read and work in the notebook! As a bonus, you also have more space to navigate the Left Bar.

Modern Color Theme

We unified the colors of our application to be simpler and more consistent, providing higher contrast for improved readability.

Top Bar Changes

We condensed the File menu into a single "hamburger" icon for more room along the top bar.
The Hide/Show, Left Bar icon, has moved from the notebook into the top bar to improve usability and discoverability.

We removed the Imported Blocks icon on the notebook, and you can now easily navigate to the Imports tab on the left bar.

We have moved the tabs for navigating the ribbon to the top bar, allowing for more vertical space in the viewport.
We have added Left and right chevron arrows for ribbon tab overflow for navigation ease of use.

Ruler

We moved the ruler out from under the notebook to span the width of the visible viewport for easier measurement.

Menu Item Changes

We have grouped Menu items together that toggle UI elements for consistency.

Window > Ribbon is now available as View > Show Ribbon
View > Display Grid and View > Display Ruler are now View > Show Grid and View > Show Ruler

"Window" has been removed.

"Imported Blocks" has been removed.
The

 

Flip Mesh Normals

 

block reverses the normal of each face of the input Mesh.
You can use this block for visualization purposes to make an imported mesh easier to view or for workflows that utilize mesh normals for extrusion, part splitting, etc.
Block Name: Flip Mesh Normals
Location: Modeling > Utilities
Description: Flips the normal of each face of the input Mesh.

Input 1 : Mesh: Mesh from which to flip faces.
Output: Mesh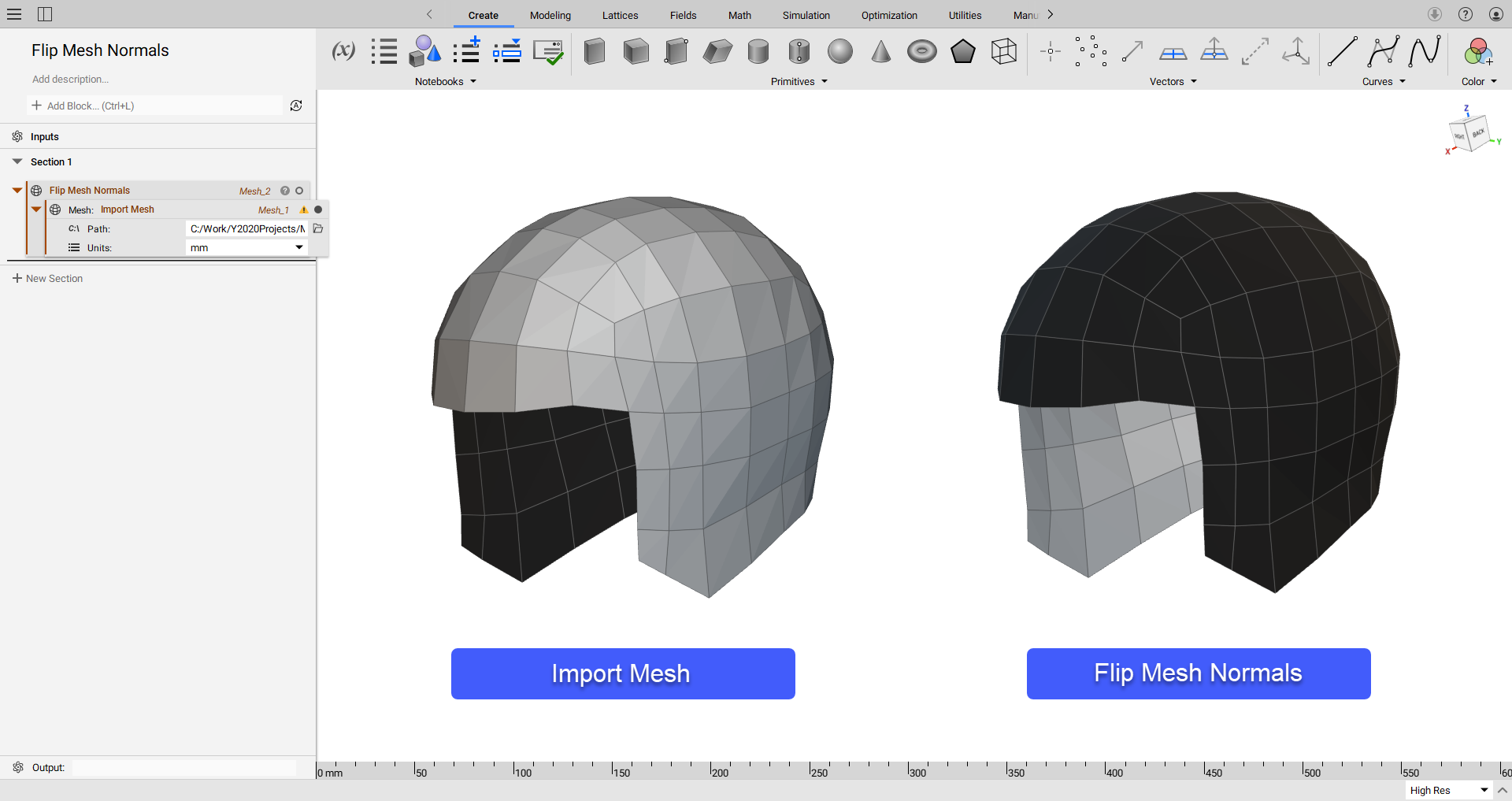 We improved the rendering of our wireframe meshes to visualize the object better when zoomed out.
| | |
| --- | --- |
| Before | After |
| | |
We added a grouping in the Properties panel to help you better distinguish which object properties are type conversions.
Note: These will match some types shown in the Information Panel's Converts To section and the variable type dropdown (top left of variable blocks).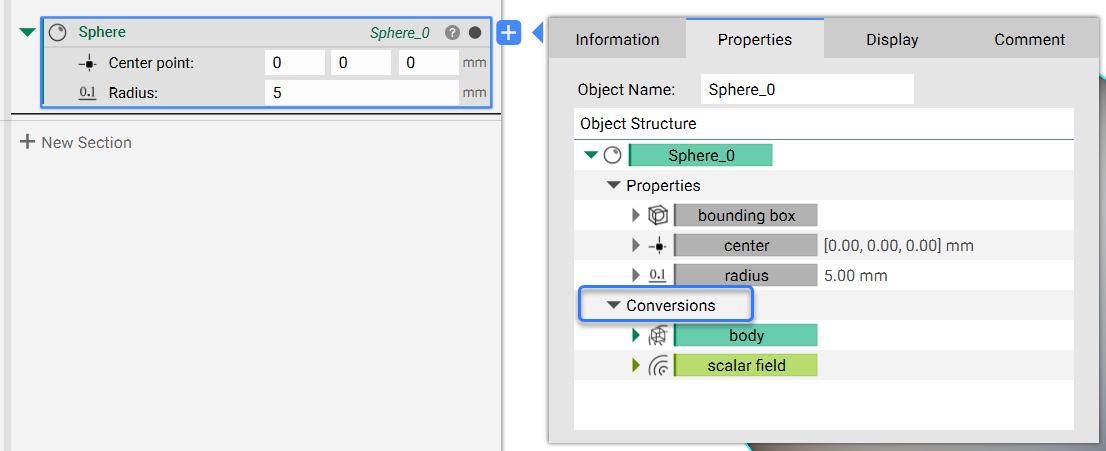 We added a grouping in the Properties panel for List objects to help you better distinguish which object properties are List Elements.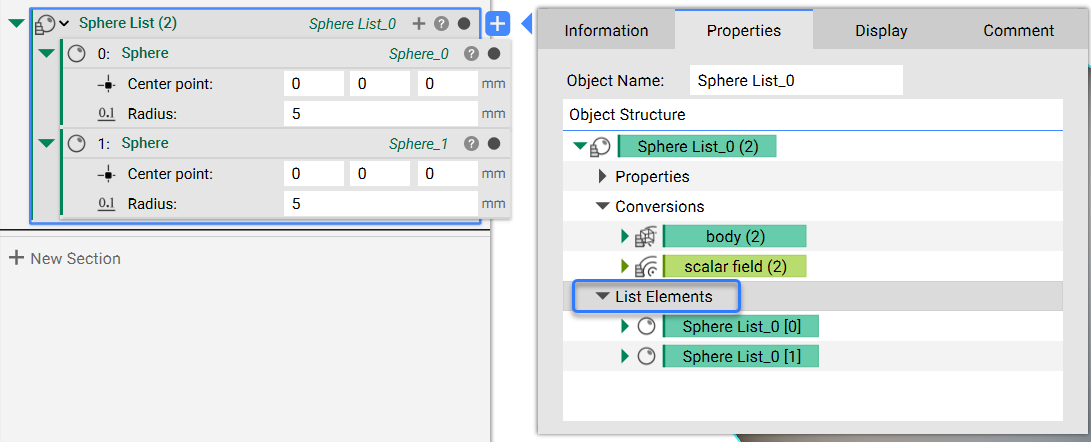 Selecting "Remove Unused Blocks" in the Imports tab in the left side panel will no longer force your notebook to re-run.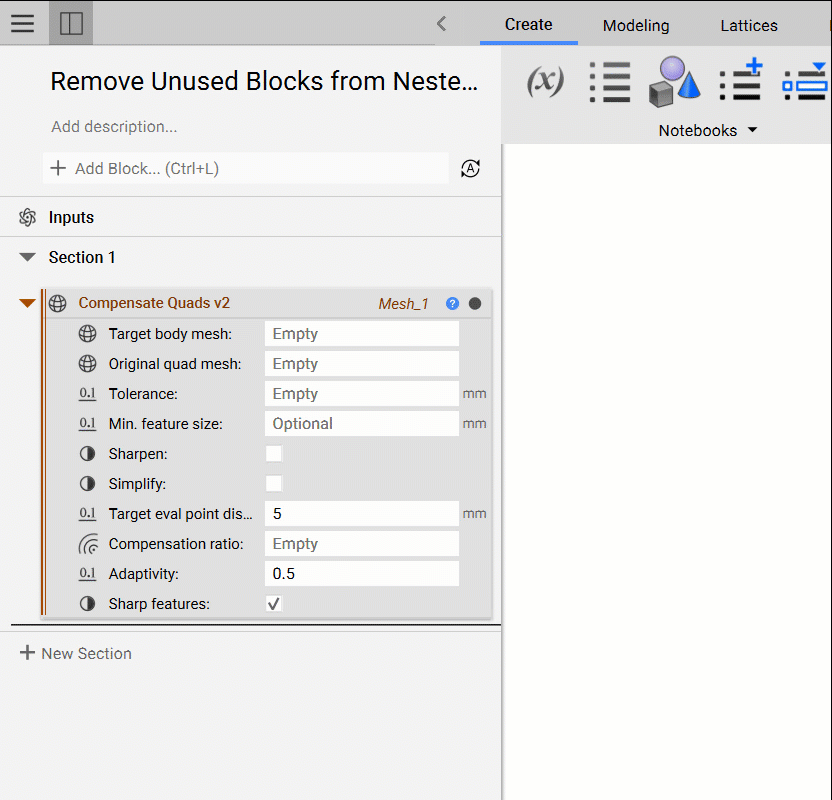 Tip: This option can help reduce the file size by removing unused Custom Blocks in all nested levels.
The

 

Homogenize Unit Cell

 

block is updated to include the thermal homogenization capability. With this update, the block can calculate the equivalent thermal properties of a unit cell, such as conductivity and specific heat, in addition to the elastic properties. A set of boolean inputs named 'Mechanical' and 'Thermal' enable users to choose the desired homogenization type. Deselecting both inputs will cause the block to calculate only the density of the unit cell.

We released a new version of the

 

Implicit Body from Voxel Grid

 

block and deprecated version 1.0.0. Version 1.1.0 will generate faster if GPU acceleration is on, and the implicit bodies created are now more reliable and robust for modeling operations such as shelling, offsetting, etc.
We released a new version of the

 

Refine Bounding Box

 

block and deprecated version 1.1.0. In version 1.2.0, we fixed an issue that created too small of a bounding box in some instances, cutting off the input Body. The new version also runs faster.
| | |
| --- | --- |
| An issue in Refine Bounding Box version 1.1.0 the result is too small and cuts the input Body. | Version 2.0.0 is faster and more reliable. Assuming that the input has a bounding box containing the Implicit Body, the output is guaranteed to contain the body, never producing a too-small box fully. |
| | |
We released a new version of the

 

Smoothen Body

 

block and deprecated version 1.3.0. Version 1.4.0 runs faster, and we fixed an issue in previous versions when provided a Domain input that produced an inaccurate bounding box in some instances.
We fixed an issue causing an Invalid Block Error when Custom Blocks stored in the MyBlocks folder were used as inputs to other Custom Blocks stored in the MyBlocks folder.
We fixed an issue with the

 

Boolean Union

 

block that produced a zero-span bounding box in the output after performing a union on a list of points.
We fixed an issue with the

 

Lattice from Volume Mesh

 

block that caused nTop to unexpectedly exit if you provided an empty Volume mesh input.
We fixed an issue that caused inaccurate gradients in the implicit body output of the Cone block when the cone was not oriented with X/Y/Z axes. Since this bug produced incorrect results, we did not version the block when implementing this change. In nTop 4.0, and all future versions of nTop, version 1.0.0 of the Cone block will have this bug fix. Downstream blocks that utilize gradient calculations may produce a slightly different topological output. For example, mesh element layout and node count might change, but your discretized geometry is still guaranteed to be within your target tolerance. Read nTop 4.0 - Cone Gradients Update to understand more about this change.
We have added a new

 

support article

 

to list all the workarounds for known issues when upgrading.
If you still see the old icon when you search for nTop in the Start Menu, it is caused by Windows caching icons. To fix it, follow the steps in the link below.
Note: nTop didn't write the article in the link above, and this link will take you to a different website
If you still see the app name as nTopology and cannot see Recent Files when you right-click the nTop icon from Taskbar, we recommend unpinning the old nTop icon and pinning the new nTop again to fix it.