nTop 4.1 is here! This is a lighter release with usage improvements and bug fixes to improve your nTop experience. As with every release, nTop's dedicated support team is ready to answer your questions. Please visit support.ntop.com to gain access to helpful tutorials and support articles.
Type System Updates
With the release of nTop 4.1, we want to ensure that the nTop programming language can grow in a scalable manner to enable more powerful and robust computational design workflows in the future so that you can build the best parts.
We fully maintained backward compatibility for this type update so any previous notebooks can be opened, viewed, run, and edited in nTop 4.1+ and future versions. In the new system, behaviors will be changed if you are working with:
Lists
Groups
Abstract Types (e.g. Material, Spatial3D)
Interface Functions (e.g. Translate Object, Rotate Object)
For more information, see our detailed support page here.
Usage Improvements
When automatically switching from an overloaded block that has an input containing an auto-populated default value, nTop will no longer prevent you from switching overloads and will discard the default value (shown below with Subdivisions input).
Note: If you delete the default value and type in any user-defined value, the overload will be prevented from switching until the value is cleared.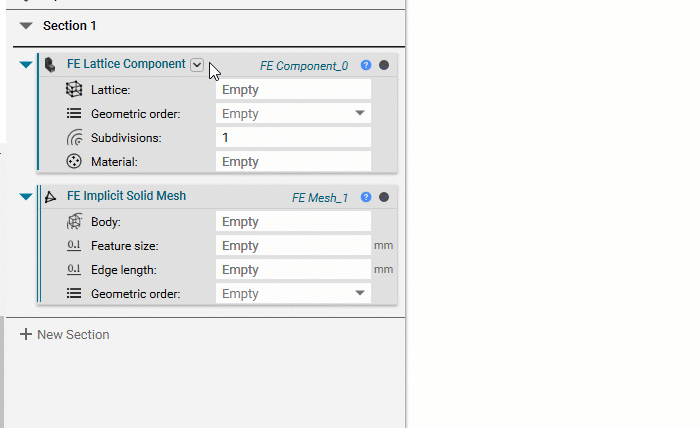 The notebook description has been moved into the scrollable notebook body to allow you to view more of your workflow at a glance.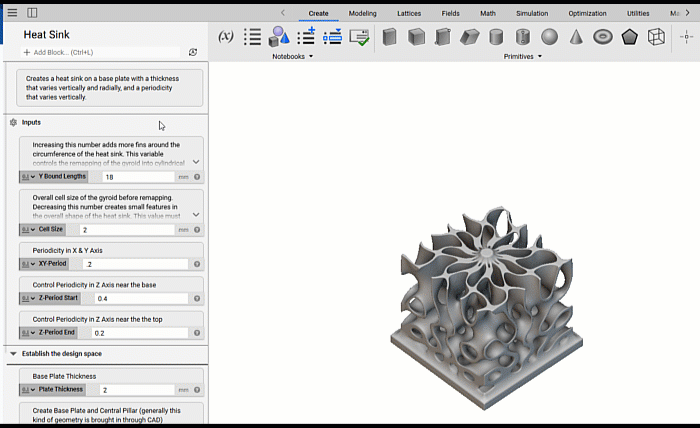 Block Updates
We moved the

Natural Frequency Response

block for optimization to production version 1.0.0. You can find the block in the Optimization ribbon under the Responses section.
We released new versions of the

Sweep

and

Twisted Sweep

blocks and deprecated versions 1.0.0. Version 1.1.0 of the

Sweep

and

Twisted Sweep

blocks include bug fixes, produces better fields with accurate gradients, and will run faster. We have also fixed the discontinuities in the interpolation of the twist angle in the

Twisted Sweep

block.
| | |
| --- | --- |
| Before | After |
| | |
| The mesh quality of the output of Twisted Sweep version 1.0.0 is poor due to issues with the implicit's field. | Mesh result in nTop 4.1 using Twisted Sweep version 1.1.0 |
We consolidated certain blocks into one block with multiple overloads. For the changes listed below, if you have been using the latest block versions, our backwards compatibility system will take care of this update for you. You do not need to make any manual changes to your notebook.
The

Collapse Mesh Vertices

and

Collapse Lattice Vertices

blocks are now one block with multiple overloads, and we simplified the name to

Collapse Vertices

We also added another overload that accepts a Graph as an input.
The

Merge Meshes

and

Merge Lattices

blocks are also consolidated into one block with multiple overloads, and there is a new overload for the Graph data type. Note that the merge operation does not collapse vertices. If needed, use

Collapse Vertices

prior to merging.
We added an overload to the

Trim Lattice

block that accepts a Graph. This overload, as well as those mentioned above, gives you more control over your Graph when creating a custom Unit Cell for latticing.
We separated version 1.0.0 of the

Mesh from Implicit Body

block from the versions 2.0-2.4 grouping, and renamed the block to

Mesh from Implicit by DC. This block has a lower computational overhead than

Mesh from Implicit Body, however the result may contain self-intersections and non-manifold edges or vertices.
Bug Fixes
We fixed an issue allowing you to import a file from the home screen but have the imported file hidden. You will no longer be able to import from the home screen. You can import once a file is created or opened.
We fixed an issue that prevented warnings from displaying on the

Merge Meshes

block. The block warnings will correctly appear when the output has issues, such as self-intersecting elements.
We fixed an issue in the

Homogenize Unit Cell

block to restore the speed of the material property calculation to its original performance.