Issue:
Opening nTop triggers an error message "Failed to Initialize OpenGL."

Is it possible to upgrade or downgrade OpenGL versions?

I want to upgrade the OpenGL version to enable software functionality.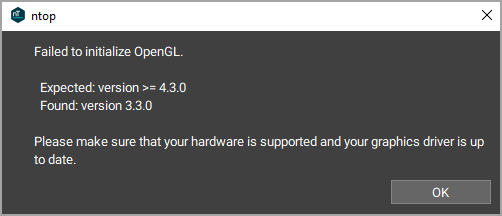 Applies to:
nTop
OpenGL
Windows 10
NVIDIA Graphics Cards
AMD Graphics Cards
Cause:
nTop requires an OpenGL 4.3 compliant graphics card. This error occurs if the graphics card is out of date.
Solution:
OpenGL is a standard for rendering 3D graphics used by GPU manufacturers, and implementation is mostly related to hardware.  You may try to contact the system manufacturer for assistance, but most likely, upgrading the graphics card is required for this system to be compliant with nTop.  
If you have a compliant graphics card in your system and still get this message, please make sure that the appropriate drivers from the manufacturer are installed and up to date. In case you have several graphics cards in your system, please make sure that the one that is connected to your monitor meets these requirements.
More on this topic: