Objective:
Learn how to loft between any two shapes.
Applies to:
Procedure:
Since Implicit bodies don't have surfaces as b-rep models do, we have to section cut the body with a plane to create a profile for lofting.
1. Start with your object
Create the objects you want to loft. In this example, we are using a TPMS Gyroid and a TPMS Lidinoid.
Move them with the Transfer Object block or by their centroids to set up the rough spacing for the loft

2. Create the profile
Add a Section Body block

Add the block Plane from Normal in the plane input. Adjust the plane to the exact spot you want to section your body (the Section Body block cuts the body where the Plane intersects it. Make sure the plane is intersecting the body)
Insert the body into the Body input

Repeat the process for the second body

3. Loft the polygons
Add a Loft between Profiles block

Open up the Properties of the Section Body block and drag the Polygon chip into the Profile input. Do this for both profiles. This ensures the loft will be smooth and follow the shape profiles correctly.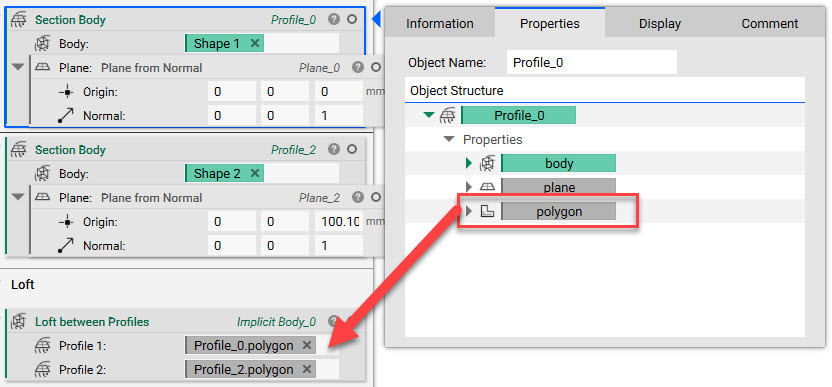 And that's it! You've successfully lofted between two profiles.
Are you still having issues? Contact the support team, and we'll be happy to help!
Download the Example file:
More on this topic: