Issue:
Executing the nTop MSI may trigger the Microsoft SmartScreen warning "Windows protected your PC" and block the installation process.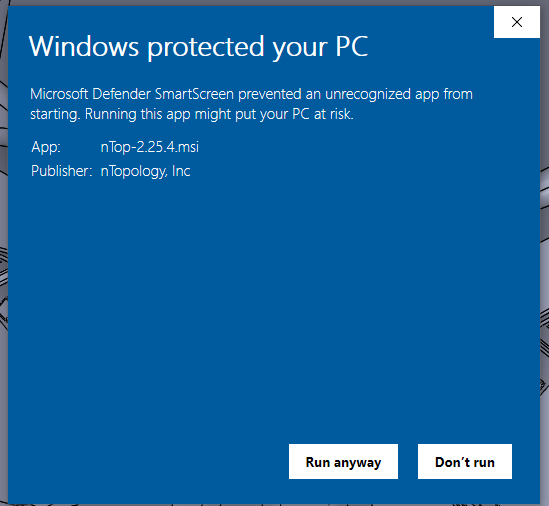 Applies to:
nTop 3.36
nTop 2.27
nTop 2.26
nTop 2.25 +
Cause:
This message occurs if an application is unrecognized by Microsoft. New software versions are sometimes unrecognized at release until enough users install the software to build the trust index.
Solution:
We are actively exploring solutions to stop this issue from occurring with future releases. If the MSI was retrieved from a trusted source such as the nTop User Dashboard or an organization's network, selecting the "run anyway" option is safe. Contact your IT team or nTop support with any questions.
If you can't see the 'Run Anyway' option - Only do this if you've downloaded the MSI from the nTop User Dashboard.
**We highly recommend turning these settings back on after you've installed the program
Open Windows Security (type in the Search panel on the lower left)
Select the 'App & Browser control' tab
Select 'Reputation-based protection settings'
Turn off 'Potentially unwanted app blocking'
More on this topic: